Our Team
We are proud of our team of caring dental professionals! Our individual journeys brought us together, but we share our passion for bringing the best that dentistry has to offer to each of our valued patients. Read our bios to learn a little more about us:
---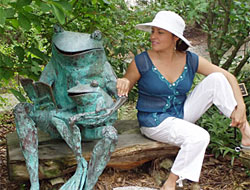 Maria Jose
Maria Jose earned her Master's degree in social research in 2002, then co-authored a book about evaluating social programs. Maria worked her way up the ladder in the Supreme Court of El Salvador, eventually becoming coordinator of the Court's social workers. She was a frequent lecturer and conference organizer on the topic of domestic violence, and occasionally appeared on national television.
All this changed when she immigrated to the United States with her two children in order to marry Dr. Henry. She still uses her background as a social worker by doing volunteer family counseling at First Baptist Church of Peachtree City.
You are most likely to encounter Maria Jose in our business office assisting Spanish-speaking patients. But occasionally she can be coaxed into the operatories to assist her husband with dental procedures.
In her spare time, Maria Jose likes to read fiction, especially books by Danielle Steele. She says that the best thing about working at our office is allaying patient fear, and communicating with Spanish-speaking patients.
---
Joyce
Registered Dental Hygienist
Joyce grew up in the Lakewood area of Atlanta. While still a teen, a dentist in her neighborhood trained her in dental assisting. When he tried to get her interested in attending dental school, Joyce compromised and became a dental hygienist instead. She has been helping patients maintain good oral health ever since, even when she owned and managed a restaurant!
With her two children having completed college, Joyce has more time to tend the gardens in her 100+ year old Fairburn house. Another favorite activity is going SCUBA diving with friends.
After being a hygienist for more than 35 years, you would think Joyce might want to slow down, but she is working as much as ever. Joyce says the best thing about her job is caring for patients, and teaching them how to maintain a healthy and beautiful smile. Joyce brags that she has wonderful patients, many of which have become her close friends. She considers her patient population to be part of her extended family!
---
Gail
Front Office Assistant
Many of you long-time patients remember Gail. She worked for our practice until 2005, when her husband was transferred to Texas. When she recently returned to metro Atlanta, we had a staff opening. Gail honored us by agreeing to work in our practice again.
Gail has one son named Grant who is attending college in Texas. In her spare time, Gail likes to read, cross stitch, and cook. She says the best thing about working in dentistry is meeting and helping different people.
The first contact you will have in our office is Gail, who most often answers the phone. She is also the go-to person about insurance issues.
---
Cristhian
Dental Assistant
When we need staff and are willing to train, the first place we look is our patient population. Cristhian and her father were both patients in our practice, and Cristhian had a bit of a boring job. We gave her a chance to train as a dental assistant, and found she was quite a fast learner. Her calm demeanor is also a big plus, as patient treatment here can get quite hectic sometimes!
Cristhian is bilingual, and can help explain difficult concepts in the operatory, as well as answer calls in Spanish when Maria is out of the office.
In her spare time, Cristhian enjoys going fishing with her father. She is very adventurous, and often travels to new places. An aunt for both a niece and a nephew, Cristhian also looks after a pet chihuahua named Lucy and a pit bull named Tazz.
Cristhian says the best thing about working in our practice is being able to help patients achieve their goals by completing their treatment plans.
---
Aurora
Registered Dental Hygienist
Believe it or not, I have known Aurora since she was six years old, when she, her two sisters, and parents were treated in our Morrow office. I'd like to think her treatment with us was one of the reasons she chose dental hygiene as her profession. She was in training at Clayton University at one of the toughest times, right in the middle of the COVID-19 pandemic.
It sure is handy to have a hygienist to speak Spanish to those patients not fluent in English. But don't worry, Aurora speaks impeccable English as well.
In her spare time, Aurora likes to watch movies with her boyfriend and little sister. She also crochets and tends to her house plants. A cat, a dog, and some fish are her animal companions at home.
The best thing about working in our office, according to Aurora, is being able to personalize patient care.
Aurora has a way with nervous patients. Sometimes Joyce must be off for health reasons, and we may ask to reschedule you with Aurora for one time. You are sure to enjoy Aurora's thoroughness and calm demeanor.